Build Your Own Website
It's easier than you think to build your own website.
I did it, and you can too!
That's right, this website. I built it myself with no knowledge of HTML, no design background, no special computer skills and zero understanding of search engines.

But, as of this posting, a Google search for 'massage Northampton' or 'CranioSacral Northampton' ranks my website within the top 2 search results. Top 2!! And I know nothing about submitting to the search engines. Site Build It! gave me all the tools and information I needed to successfully create my site.
Site Build It! (SBI!)
gives me ......
--> An amazing action guide that literally walks through building a website step-by-step: From brainstorming ideas for your site, to researching key words, to registering your site, to writing effective content to attract visitors to your site, SBI! helps you every step of the way so you can easily build your own website.
--> A page analyze feature that helps ensure my page meets the criteria that search engines look for and love, while maintaining the content I wish to publish.
--> Automatic search engine submission. Not only does SBI! analyze and submit my site to the major search engines, they submit each page and any/all updates that are made to each page.
--> Traffic reports that show me how people are finding my site, what pages they are viewing, and any links they clicked while visiting.
I get all of this AND SO MUCH MORE for only $299/year. That's less than $25/month. I don't know of any other marketing that gives so much for so little. Where else can you find this type of return on your investment? Where else can you reach hundreds, or thousands of targeted customers, who are looking for your products or services each day/week/month for less than $1/day?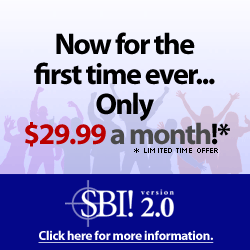 But the best thing that Solo Build It! gives me ………… CONTROL. Control over my own website. If I want to add a page, delete a page, or make any type of change on my site: I do it all myself when I want it done. I don't need to call my web designer, play phone tag, then describe that changes I want to what pages, wait to see a proof, approve the proof, and then wait for the pages to go online.
If I need anything changed, I simply log on, click on the page I want to edit, make the changes and click Build It! It goes live to the web within minutes – not days!
Even if you are a service based , and/or a local business (I am both) Solo Build It! can help local customers find you quickly and easily.
Build your own website today!
With Solo Build It's 'no risk test drive' you have nothing to lose!